Events
CanCOVID organizes and hosts a weekly Speaker Series, as well as monthly workshops and special events, to highlight emerging and published research throughout the pandemic. Thank you to all of the speakers who have generously shared their expertise to help ensure timely dissemination of results across a wide range of topics and disciplines.
See below for upcoming events, the recordings of previous events, and see events being led by others in this area. If you will be holding a COVID-19-related research event and would like us to consider sharing it on this page, please contact info@cancovid.ca.
Previous CanCOVID Events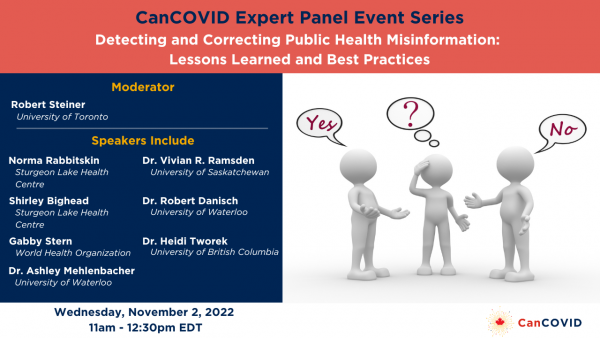 02 November 2022
11am‑12:30pm EDT
CanCOVID Expert Panel Event Series​: Detecting and Correcting Public Health Misinformation: Lessons Learned and Best Practices
Please join us for the next expert panel event in this series. This is a bilingual event, and it will be translated live for English and French participants. ​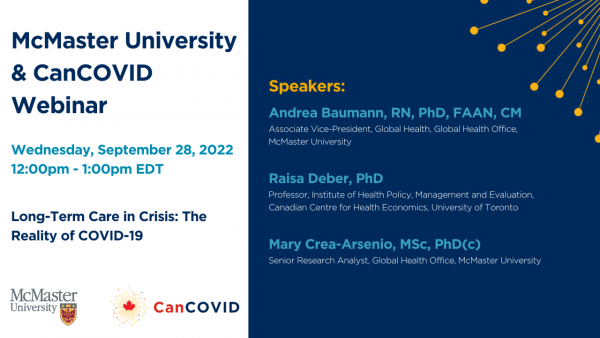 28 September 2022
12‑1pm EDT
McMaster University and CanCOVID Webinar​: Long-Term Care in Crisis: The Reality of COVID-19​
Moderator: Susan Braedley, MSW, PhD, Associate Professor, School of Social Work, Carleton University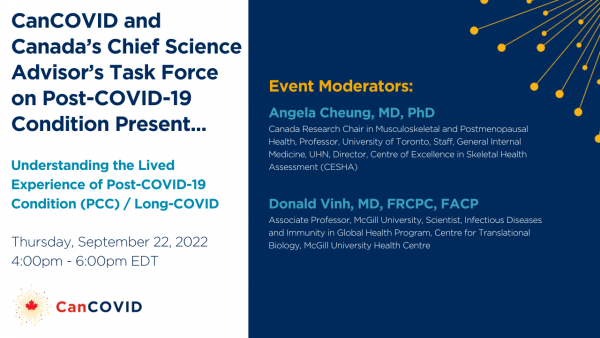 22 September 2022
4‑6pm EDT
Public Panel co-hosted by CanCOVID and Canada's Chief Science Advisor's Task Force on Post-COVID-19 Condition​
Understanding the Lived Experience of Post-COVID-19 Condition (PCC) / Long-COVID​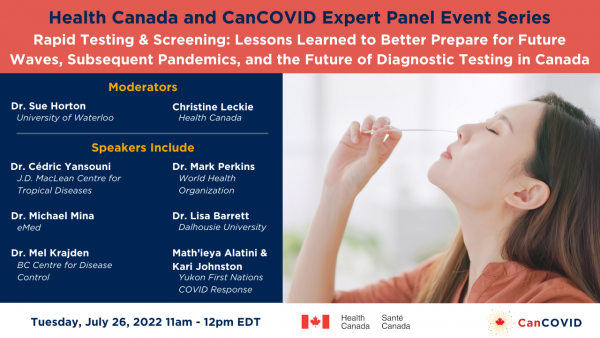 26 July 2022
11am‑12pm EDT
Rapid Testing & Screening: Lessons Learned to Better Prepare for Future Waves, Subsequent Pandemics, and the Future of Diagnostic Testing in Canada
Moderators:​ Sue Horton, PhD, FCAHS, FRSC, & Christine Leckie, Executive Director, Medical Devices Evaluation Bureau, Health Products and Food Branch, Health Canada​