REAL Sandbox. Rapid. Relevant. Creative.
What does it mean that CanCOVID is powered by REAL? Rapid Evidence Access Link (REAL) is a COVID-born platform to move valuable knowledge from those who produce it to those who need it.
REAL is an informatics solution built to get evidence into decision makers' hands. Our work is layered into the fabric of CanCOVID to seamlessly complement, augment and enhance the work of CanCOVID members.
REAL is built on a recognized knowledge mobilization (KMb) framework –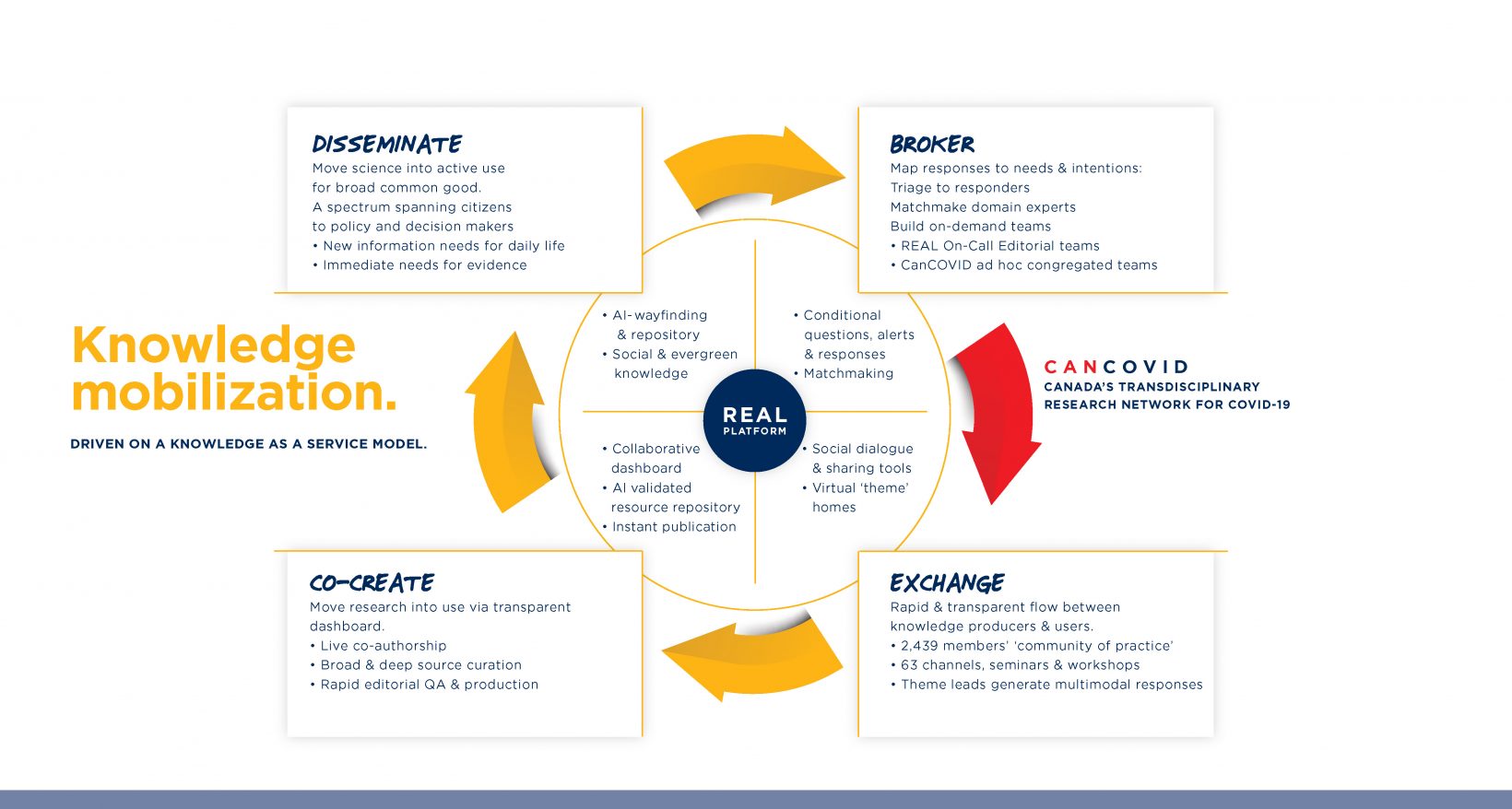 REAL is a digital podium. The pandemic has created a REAL moment where it is necessary to widen and diversify the established trade routes of knowledge to action. We enable a new transparency. We are clear on our methods, our constraints, and with our limitations made clear we move forward best-at-the-time information. We bring the voice of science into public and policy dialogues.
REAL (agile) Sandbox
REAL has a new kind of agile sandbox, where we build up and break down in real-time so that we are most prepared to digitally serve pandemic driven needs. This is a space for the tech minded and the tech curious.
Informatics professionals see that we are not in new space, we have new needs. Rapid virtualization isn't bringing forward new ideas, it is moving them into place with a new intensity.
The REAL Sandbox is a redeploying a playful space for experimentation into a best-we-can-do staging area for new digital and AI ideas.

Meet REAL ai. In its infancy but with the DNA of decades of AI and technology expertise. Like many in COVID‑19 response, we are re-purposing work to best serve immediate needs.
REAL ai is a concierge to bring knowledge to people, as needed, when needed. Please help us train first the use of our own site, and increasingly the ability to find information buried in the infodemic.
The new CanCOVID uses the latest chatbot technology with a conversational approach to provide community service. Through what feels like a natural conversation, the chatbots guides you to the information, resources or services you seek. This smart navigational software replaces clunkier tools like intake forms or FAQ pages. Just ask a question and our chatbot will sift through hundreds of entries in our repositories to get you exactly what you are looking for.
Every new chatbot needs to be trained. When you use the chatbot, you're helping train it on how to communicate and seek resources. Each query helps the chatbot get smarter and smarter. Throughout your visit, you'll get helpful prompts and recommendations on our features and products, creating a unique and catered experience of our website.